Meet Lura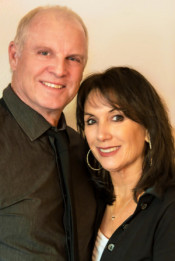 Realtors
951-639-8777
951-760-6102
951-639-8778
43521 Ridge Park Drive
Temecula
,
CA
92590

Download vCard
Doug and Lura Bailey Biography
A letter from Lura (Oise)
Hi! My husband Doug and I have been living and working as Realtors in the Temecula Valley since 2004. We specialize in Residential Real Estate sales, and we love working with people in their Real Estate needs. But really, our secret is that we are Relationship Experts. Read on for more on that!
For Sellers: I have worked in home decor design and have my own design company. A big part of what I offer is my knowledge of staging homes. I know that great staging is very important. And Doug, who is a retired Firefighter, was also a landscape designer and contractor and knows curb appeal. Combining our talents we can really change your price point to the upside. And you will have more traffic and quicker offers on your home. Oh, and Doug is also an award winning photographer. He really knows how to feature your home at it's best.
For Buyers: the good news is that we take time to listen. What are your needs? More importantly, what are your dreams? Only after that conversation takes place will we go to work and search for your perfect fit. And between the two of us, your file is always on the top of the stack!
Here's where the relationship part comes in. I know this is an exciting time to buy or sell a home. But it is also stressful time as well. No question is too small or too dumb. After all, this is one of the biggest decisions you will ever make. So we try to take on all the stress and leave you with only the excitement. And we really get to know our clients, staying in touch long after another successful escrow has closed.
Our Heart:
Doug and I have a special heart for our military. We have held fundraisers for Wounded Warrior Project for many years. We also help with other fund raisers and charities in the Temecula Valley. And beyond. Hope's Community Closet and Power Ministries are very special to us, as is Vivian's Hope and Outside the Bowl. Working with these great charities is fun and inspiring.
Of course, after being married to my best friend for 45 years, my greatest joy is being with family and friends. But there is always room for more! We would love to connect with you too. You will not regret making the Temecula Valley your home, and will love the great schools, amazing restaurants and the fun vibe of Wine Country, Old Town and beyond! So, let's get started!
About Exit Alliance Realty
Doug and I are very excited to call Exit Alliance Realty our Real Estate home. In fact, we jumped at the opportunity when we were invited to join. And yes, I said Invited! Exit Alliance is an agent by invitation only company, and we are honored to be a part of such an exceptional office. The positive and upbeat atmosphere is unlike any other brokerage we have experienced.
We are also excited that our office really gives back to our community in tangible ways. We support charities and fundraisers large and small throughout the Temecula Valley. We are making a difference in the community far beyond just buying and selling Real Estate.
By the way, if you are an agent would like to know more about how you can become a part such an amazing team, we would love to share with you in more detail our experiences here at Exit Alliance Realty.
All the Best!
Doug and Lura
Testimonials:
The Bailey's were a fantastic Real Estate team to work with when we purchased our home. They are intimately familiar with the Temecula Valley, and have key connections with professionals all around the area. The entire process was fast, efficient, and easy for us as buyers. They took care of every detail and provided sound advice when we needed it. I can't recommend Lura and Doug enough.
Guy and Kristen Hufford, Temecula California
It was happy and fotuitous that we dropped into and Open House in Murrieta on our way to a social event 10 years ago, for that is how we met Doug and Lura Bailey who became our Real Estate advisors, Real Estate tour guides, then friends ever since. We know them to posses a fine balance of professional skills and open and friendly communication competence. We were relocating to a whole new area and they were patient and thoughtful to not only introducing us to neighborhoods and services and the diversity of homes that were available. This was our sixth home purchase and Doug and Lura helped us to find our very favorite home in our very favorite neighborhood.
Bob and Marsha Brown, Murrieta California